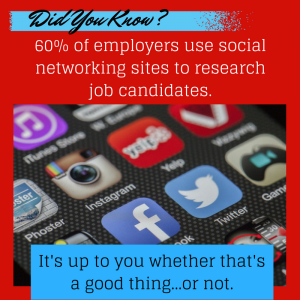 In the last 10 years, employer use of social media to screen potential employees has increased 500%.  Career Builder shared in their annual survey report this and many other statistics that show the potential positive and negative impact of your social media on your employment status.  The internet and social media have come upon our culture like a raging river and you can get swept away by the negative impact before you realize it if you're not careful.  Currently, the statistics do show that there is more negative impact from all this social media research for people that have posted, without thought, before they realized the impact.  But, in this case, knowledge is power – now you know – you can engineer and harness the power of the internet to your advantage.
Wouldn't it be better to just keep all your profiles private?  If they can't see it, it can't count against you, right?  Not necessarily.  Two out of every five employers report that they are less likely to interview someone when they can't find information about them online.  Like all the other statistics – this one is bound to increase in the future.  Think of it as a pre-interview. You have the chance to make a first virtual impression that can increase your chances of an interview and getting hired for a job.
Fortunately, not all employers are hunting for flaws and are happy to find treasure.  In fact, the report tells us that one-third of employers looking, found positive information that caused them TO hire a candidate.  You can harness the power of your internet image by posting information that accentuates your positives.  If your posts support your job qualifications, give a professional image, show a wide range of interests, and display good communication skills a potential employer will be pleased indeed.
So, if you already have a job you're "safe," right?  Wrong.  41 Percent of employers are using social networking to keep an eye on their current employees.  More than 1 in 4 have found reasons to reprimand or terminate current employees.  There is NEVER a good time to let down your guard – ALWAYS think before you post.
The moral of the story? Your internet image is in your hands (or keyboard, or mobile phone), whether positive or negative – guard it well and it can be a positive influence in your current and future career.