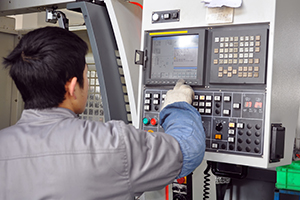 Industrial Maintenance Technician
Industrial Maintenance Technicians install, repair, and maintain commercial or industrial machinery in buildings, plants, or manufacturing settings.  These technicians ensure all machines function properly through troubleshooting and preventative maintenance service.
SELECT AN APPRENTICESHIP LOCATION
AJAC
17 years of age
High school diploma/GED
Physically able
Completion of college Math and English classes or assessment test such as:
            - Compass Test     
            - World of Work Inventory
            - ASSET Test
Step 2: Gain Employment

Acquire Skills and Get Hired

Step 3: Apply
Apply
Once employed by a Participating Employer, ask employer to recommend you for apprenticeship
Sign an Apprenticeship Agreement with AJAC
Step 4: Begin Apprenticeship

8,000 hours / 4 years on-the-job training
Minimum of 144 hours of education each year. Typically one night per week at local community or technical college
Start at 60% of current Journey-Level rate.
Gain 5% pay increase after every 1,000 hours of on-the-job training (approx. 6 months) plus required schooling.
Full 100% journeyperson's pay after completing the program.
Estimated Starting Hourly Base Rate
   $17.04 + Benefits
    * Based on statewide average           
G.I. Bill® Housing Allowance
Usage is optional
Housing allowance can be found using the GI Bill® Comparison Tool
Search School Name:  AEROSPACE JOINT APPRENTICESHIP COMMITTEE
Calculate Starting Pay With GI Bill ®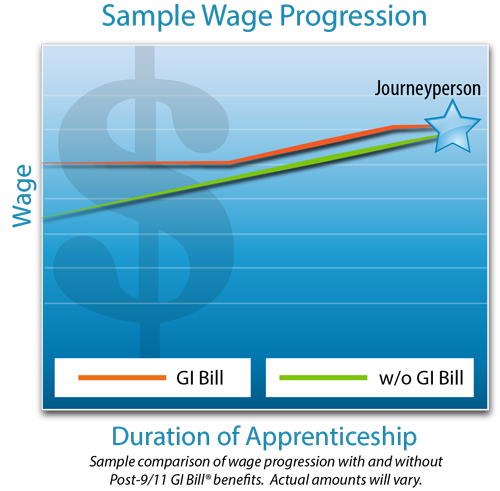 Estimated Wage Calculator
All calculations based on a 120 hours/month work schedule.
*Contact union local for updated wage information.
GI Bill Usage Breakdown:

100% - 1-6 months
80% - 6-12 months
60% - 12-18 months
40% - 18-24 months
20% - 24-30 months
*Usage Optional
Eligible veterans in an approved Apprenticeship Program can use their GI Bill® benefit and receive a tax-free stipend on a monthly basis. The Post 9/11 GI Bill® stipend is the equivalent of the Monthly Housing Allowance (MHA) of an E-5 with dependents (based on the zip code of the training facility) which is paid addition to normal wages. Refer to the chart below to understand how Post 9/11 GI Bill® benefits are paid, or consult the VA website www.benefits.va.gov/gibill (Link) to see how other VA chapters are paid for Apprenticeship Training.