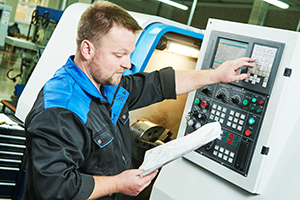 Machine Tool Maintenance Mechanic
Machine Tool Maintenance Mechanics perform repairs, alignments, modifications, preventative maintenance and predictive maintenance on various types of production machinery and process support equipment. The Machine Tool Maintenance Mechanic apprentice training includes basic machine operations, machine lubrication, machine alignment, hydraulic and pneumatic systems, precision measuring equipment, hand and power tools, automated test equipment, and safety training in all aspects of machine maintenance.
SELECT AN APPRENTICESHIP LOCATION
18 years of age
Physically able
High school diploma/GED
Completion of:
        ACCUPLACER or COMPASS assessment
         or
        Math Intermediate Algebra, English 90
Eligible for hire or rehire at Boeing company
No previous enrollment in IAM/Boeing Joint Apprenticeship program
Acquire Necessary Skills
Review list of required qualifications in the Preparing for an Apprenticeship PrepPack
Complete required vocational training or minimum of 1 year of trade-related work experience
Current employees and eligible former employees may contact a Career Advisor
Step 2: Apply

Apply

Apply online during posted openings
Qualifying applicants will be placed in eligibility pool
Applicants will be selected for interview
Selected applicants will be referred to apprenticeship committee
Step 3: Begin Apprenticeship
Wages
Start at 70% of current Journey-Level rate.
Gain 4% pay increase after every 1,000 hours of on-the-job training (approx. 6 months) plus required schooling.
Full 100% journeyperson's pay after completing the program.
Starting Hourly Base Rate
  $32.35 + Benefits
G.I. Bill® Housing Allowance
Usage is optional
Housing allowance can be found using the GI Bill® Comparison Tool
Search School Name:  IAM-BOEING JOINT APPRENTICESHIP COMMITTEE
Calculate Starting Pay With GI Bill ®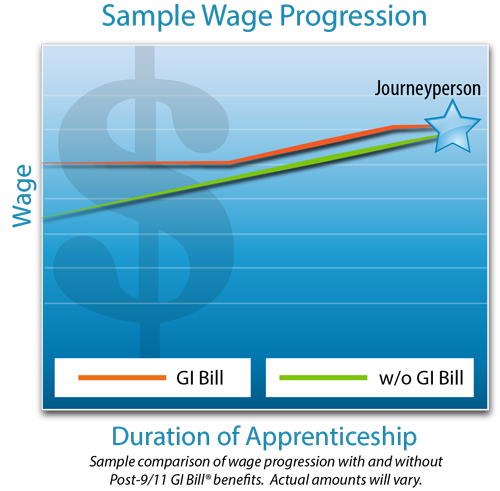 Estimated Wage Calculator
All calculations based on a 120 hours/month work schedule.
*Contact union local for updated wage information.
GI Bill Usage Breakdown:

100% - 1-6 months
80% - 6-12 months
60% - 12-18 months
40% - 18-24 months
20% - 24-30 months
*Usage Optional
Eligible veterans in an approved Apprenticeship Program can use their GI Bill® benefit and receive a tax-free stipend on a monthly basis. The Post 9/11 GI Bill® stipend is the equivalent of the Monthly Housing Allowance (MHA) of an E-5 with dependents (based on the zip code of the training facility) which is paid addition to normal wages. Refer to the chart below to understand how Post 9/11 GI Bill® benefits are paid, or consult the VA website www.benefits.va.gov/gibill (Link) to see how other VA chapters are paid for Apprenticeship Training.