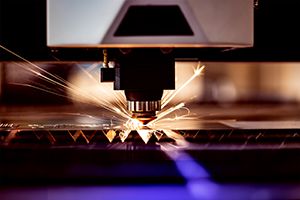 Precision Metal Fabricator
Precision Metal Fabricators cut, bend, form, and assemble precise metal parts.  Like piecing together a puzzle, the Fabricator produces specialized components at very high tolerances for products such as medical devices and aerospace parts.
SELECT AN APPRENTICESHIP LOCATION
AJAC
17 years of age
High school diploma/GED
Physically able
Completion of college Math and English classes or assessment test such as:
            - Compass Test     
            - World of Work Inventory
            - ASSET Test
Step 2: Gain Employment

Acquire Skills and Get Hired

Option 1: Attend 10-week pre-apprenticeship Manufacturing Academy
              - then continue with Option 2 or 3
Option 2: Start a certification or degree program
              - then continue with Option 3
Step 3: Apply
Apply
Once employed by a Participating Employer, ask employer to recommend you for apprenticeship
Sign an Apprenticeship Agreement with AJAC
Step 4: Begin Apprenticeship

4,000 hours / 2 years on-the-job training
Minimum of 144 hours of education each year. Typically one night per week at local community or technical college
Start at 60% of current Journey-Level rate.
Gain 10% pay increase after every 1,000 hours of on-the-job training (approx. 6 months) plus required schooling.
Full 100% journeyperson's pay after completing the program.
Estimated Starting Hourly Base Rate
   $12.28 + Benefits
    * Based on statewide average           
G.I. Bill® Housing Allowance
Usage is optional
Housing allowance can be found using the GI Bill® Comparison Tool
Search School Name:  AEROSPACE JOINT APPRENTICESHIP COMMITTEE
Calculate Starting Pay With GI Bill ®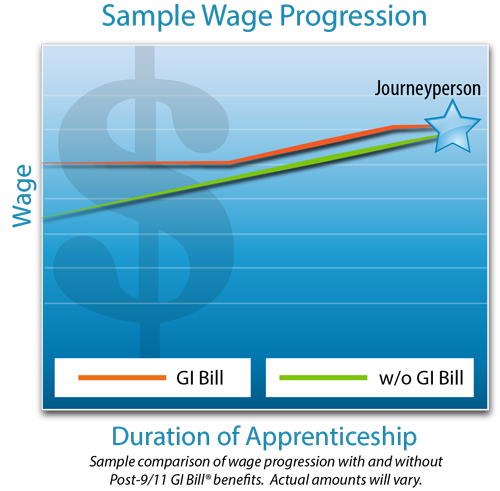 Estimated Wage Calculator
All calculations based on a 120 hours/month work schedule.
*Contact union local for updated wage information.
GI Bill Usage Breakdown:

100% - 1-6 months
80% - 6-12 months
60% - 12-18 months
40% - 18-24 months
20% - 24-30 months
*Usage Optional
Eligible veterans in an approved Apprenticeship Program can use their GI Bill® benefit and receive a tax-free stipend on a monthly basis. The Post 9/11 GI Bill® stipend is the equivalent of the Monthly Housing Allowance (MHA) of an E-5 with dependents (based on the zip code of the training facility) which is paid addition to normal wages. Refer to the chart below to understand how Post 9/11 GI Bill® benefits are paid, or consult the VA website www.benefits.va.gov/gibill (Link) to see how other VA chapters are paid for Apprenticeship Training.