Depending on your family size there is a minimum amount of money needed to meet the basic needs for survival. As your family grows, this will grow as well. The Self Sufficiency calculator below will help you to calculate this number based on your family.

But this number does NOT include extras like vacations, the latest cell phone, nights out on the town, or savings for the future. The
Reality Check
calculator can help you get a better idea of the income needed for the lifestyle you want based on where you live.
As we go through life our family can change and grow. Marriage and number of children can impact how much money we need. Make sure the job/career you are looking at has room for income growth that will meet these needs. You can figure out how much money you need for your future family using the calculators from the previous question and answering the questions based on your planned family.
Select a salary range at Career Bridge to see careers that would meet your needs.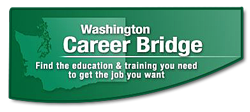 There are other things besides money that you might want to think about. Here is a starter list to get your mind thinking about other ways a job/career might impact your lifestyle.
Does this job involve a lot of travel?
What are the hours I'd like to work? Nights? Weekends? Flexible? Fixed?
Do I need/want a job that can flex from full-time to part-time and back based on my family needs?
Do I want to work from home?
Do I like to work independently or in groups?
Do I need to be active?
What else is important to you?